Asphalt shingles are the most widely used roofing application in the US because they have a relatively inexpensive up front cost, and they are fairly easy to install.
Since 1901, they have been used as the visible part of an asphalt roofing system. Salt City Roofers primarily installs CertainTeed(TM) external products and associated systems, according to the designed installation specifications.
A Typical Asphalt System is made up of:
Decking
Drip Edge
Underlayment
Ice & Water
Flashings and Counter Flashings
Shingles
Nails
Ventilation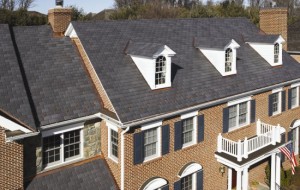 Durability of the System
A typical asphalt shingle can last 15-30 years, depending on several variables including the system it was installed with, the slope of the roof, the climate where the home is located, and the ventilation in the eaves and attic. With our systems being from the most prestigious roofing material manufacturer, CertainTeed, where they pride themselves in advanced roofing technology, research and testing, we have the privilege of passing that pride, and durability built into the system, onto our customers.
Maintenance and other Interesting Details
With a quality installation, there should be virtually no maintenance on your newly installed roof. On an annual basis, you will want to hop on the roof to inspect the gutter systems and monitor for debris or weather damage. Salt City Roofers is happy to do this as well.
Today's shingles are built with a fiberglass mesh that makes up a reinforcing mat. The mat is coated with asphalt which contains mineral fillers to make them waterproof. They are also fire resistant. They are then coated with special top surface granules that not only give it that special color to make your home's curb appeal pop, these little granules also protect the asphalt on the shingle from UV rays, keeping your roof fresh and long-lasting. To top it off, they also have self-sealing strips to help prevent wind damage of up to 110 mph.
Throughout the shingle market, there are varying qualities that help them withstand wind, fire damage, hail, and discoloration. There are 3-tab shingles, also called architectural shingles. The texture in addition to the cut, give this roof in finished form, a desired contour and visual effect that is highly appealing. Some varieties and colors of shingles are solar reflecting which helps reduce air conditioning costs in hot climates.
Warranty Info
CertainTeed roof systems come with a lifetime 5 star warranty. This is a non-prorated warranty. As with any warranty, read the fine print and talk with your sales associate regarding the details of the warranty and their company's policy.